Saint Louis County Libertarian Party
Central Committee
---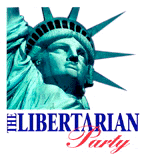 St. Louis County Libertarian Central Committee
P.O. Box 37042
St. Louis, MO 63141


Email: stlouis@lpmo.org


The Missouri State Libertarian Party Hotline
Phone: 877-868-3487



The current officers of the central committee are:

Ladonna Higgins, Chair
Eric Harris, Vice-Chair
John Hartwig, Jr., Treasurer
Dustin Coffell, Secretary
Theodis Brown, Sergeant-at-Arms

For the most current Libertarian events, visit the Saint Louis Libertarian Party MeetUp group:
http://www.meetup.com/StLouis-LP/.

This is an old site. The official website for the Saint Louis area Libertarian party can be found here:
Libertarian Party of St. Louis.

You can also visit us on Facebook:
Saint Louis Area Libertarian Party.


Meetings
Central Committee meetings are held monthly to discuss Libertarian Party business for Saint Louis County. For the time and place of the next meeting, visit the St. Louis Libertarian meetup page at the link above.
General Information
You can join the Missouri Libertarian party or the National Libertarian party by following the links below to their websites.

Please support our candidates Candidates in the August Primary election, and in the November general election.
---
Related links

This page is maintained by Arnold Trembley, current Creve Coeur Township Libertarian Party committeeman, and was last updated Saturday, November 13th, 2021. Please use this link to contact me with a suggestion for a URL to be added, or to report a dead link:

E-mail: arnold.trembley@att.net



---